There are over 5.4 million car crashes every year in the USA.
Deaths from single vehicle car crashes are on the rise. Many fatalities happen due to burning or sinking cars where victims are usually alone and helpless. While we'd all like to think that we or our loved ones will never experience a serious car accident, it pays to be prepared.
The truth is car safety experts have argued for years that drivers should carry window smashers and seat belt cutters that are easily accessible in a car wreck. Do you? Even if you are one of the few drivers that carry these safety devices, you've probably kept them in your glovebox – dangerously far out of reach during in an accident.
Fortunately, there is a revolutionary new device with patented features which are designed to be within arms reach in any car emergency.
What is it?
CrashSafe is an 'all-in-one' car emergency tool designed to be plugged directly into your car's cigarette lighter outlet (12v power port) making it easily accessible for when you need it most - packed with 6 powerful life-saving features including…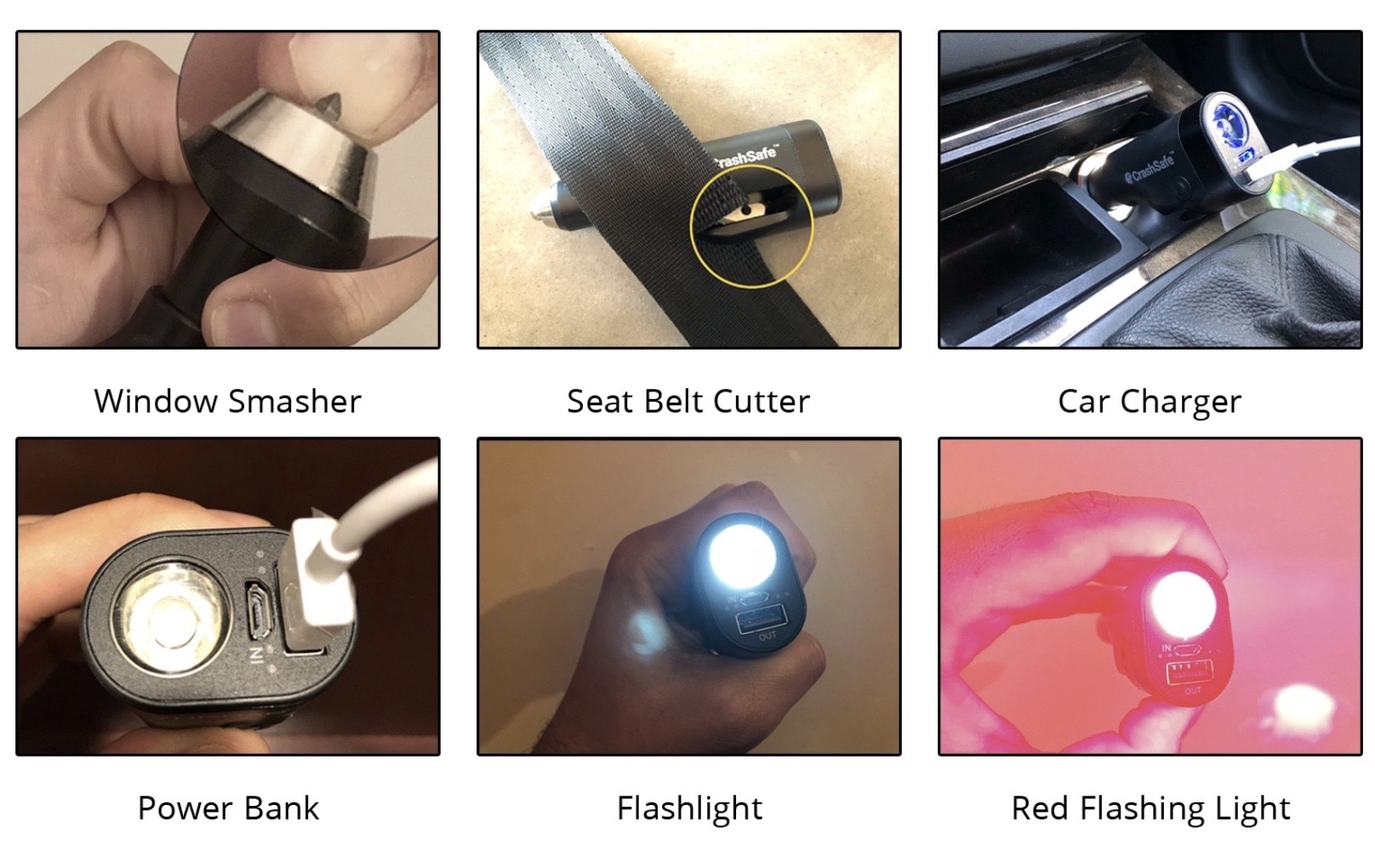 Window Smasher – Easily smash through car windows with one strike using the patented, small metal pin hidden in the tip of the cigarette lighter plug.
Seatbelt Cutter – Sharp enough to easily slice through seat belts yet designed to be safe enough to avoid accidentally cutting anyone.
Car Charger – Keep CrashSafe plugged into your car's cigarette lighter outlet (12v power port) and use the USB charging port to quickly power your mobile phone or other devices.
Power Bank – Remove CrashSafe from your cigarette lighter outlet (12v power port) and use it as a portable charger. The 2200 mAh lithium battery stores enough power to give your phone a complete charge in stranded situations.
LED Flashlight – This powerful torch lasts 4 hours and can help you in nighttime emergencies such as when you need to change a tire or walk to safety.
Emergency Beacon – For added safety, use CrashSafe's high-powered red flashing light to ensure oncoming traffic does not strike your vehicle. Lasts 10 hours!
See the CrashSafe in action...
Sounds good, but how much does it cost?
Ready to get blown away? You would think CrashSafe would charge over a hundred dollars for a product that can save your life in an emergency, but the good news for you is that the founders created a life-saving device that everyone could afford.
CrashSafe currently retails for just $49, certainly a small price to pay to arm your family with a 6-in-1 emergency tool and increase the odds that you get to hug and tuck them into bed each night – safe and sound!
Final Verdict: Should you buy one?
All in all, we think CrashSafe is a must-have for all drivers!
In fact, we agree with the company's mission to ensure as many drivers as possible are equipped with CrashSafe to protect them for when they need it most.
DON'T LET AN UNFORTUNATE ACCIDENT TURN INTO A LIFETIME OF REGRET!
Take advantage special offers and purchase the CrashSafe directly from the company's official website by clicking this link.